Discussion Starter
·
#1
·
Well after years of looking I finally pulled the trigger on the purchase of a 2005 Rubicon Sahara model, # 364. After all these years and having seven different deals fall through I can proudly say this one has every option on it that I was looking for. The temp/compass mirror, hardtop and automatic transmission were the main features I was looking for and got. This Jeep further comes with some extras that I get to sell so I can personalize it more. I will be pulling the front bumper and winch and selling both as well as selling the tires/wheels and the tube side steps. I have plans to put some Rocker Guards on it along with a different front bumper (still looking) and a Warn 9.5XP winch. The rig has a 4" lift on it so I will be replacing the tires with some 285 75 R 16 Good Year tires but I am not sure if I am going to go with the Duratracs or the MTR/K tires. Final touches on this rig include the front grill, fenders and gas cap cover painted Light Khaki Metallic. Anyway here are some pics, I am really pleased with the purchase!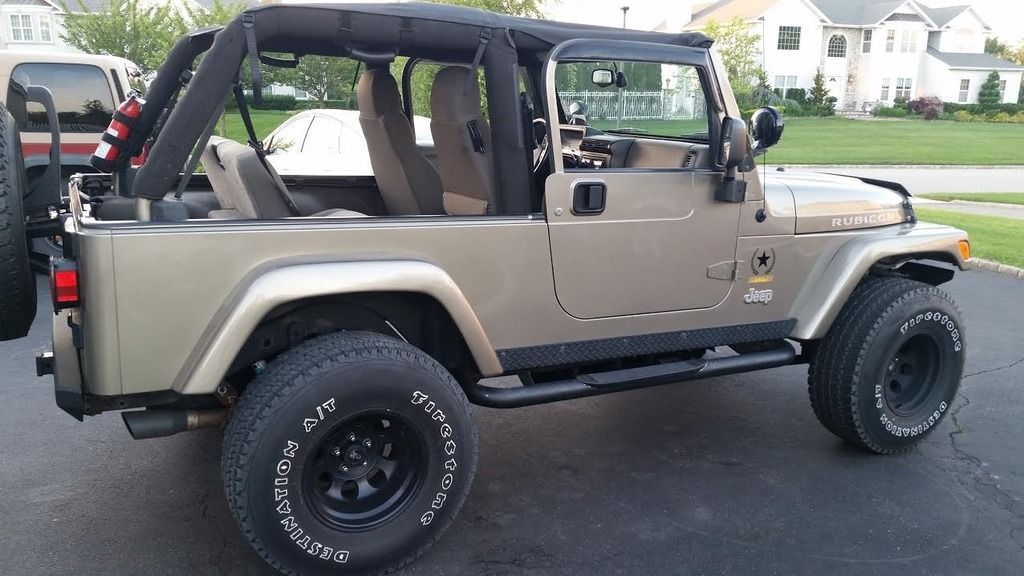 The rig shipped out on Monday after a weeks wait. They were supposed to pick the rig up last Tuesday but the truck broke down on the way to get her to bring her back to the city (she has been living on Long Island, NY). Looking for her to arrive some time Friday or Saturday.
And here is my GF who will be driving the rig. It was her purchase and she is stoked to be driving one of the best Jeep platforms ever made. The plan is for me to eventually hand the rig down to my nephew (I still need to purchase another LJ for my other nephew).
And here are the speaker pods that will be installed in the rig. The rig already has a stereo system in it but of course I am going to have to tinker with that to my liking. Can't wait to install these below..