I had never been to Moab, and had been wanting to go a long time. I knew I was gonna leave wanting, but I did reach some major goals. My buddy is now hard at work looking for a Rubi and my wife loved Moab and its Jeep goodness. She sees the light on upgrades
I went stock except for the Highline kit. My friend rented a Rubi JK that did well.
Elephant Hill.....
On to the trail.
At the trailhead...
They have added some paving material to make the trail stable, but it is still an impressive start...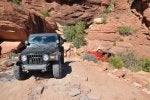 The parking lot below.