Rubi Noobie
Join Date: Jul 2006
Location: N.C.
Posts: 45
Has anyone started a thread like this before?
---
I have done the searches and cannot get a straight answer. I propose that we have a single thread that ROFers can go to get specific questions answers from others that have been there done that. Example is below:
I have an 06 LJ Rubi with a 4" lift with 33" tires on stock Moabs with spydertaxs spacers. I want to switch to tube fenders (front and rear) I want to put on 35"s how much room would the tubers give me.
I would then post a picture of my LJ, and then hopefully people with similar setups would post their pictures with the upgrade all done. Certainly there are folks out there that are tubed out with a 4" lift and 33"s, worst case 35"s. It would answer my question without doing a bunch of searches in different parts of the forum. It would also give people a chance to more easily find someone who has done the mod already to help out a fellow ROFer.
Do ya'll think that this is feasible and worth the effort, or is there something like that out there? Anyway Just thinking
Thanks for your time
Jeff
Rubicus Maximus
Join Date: Dec 2005
Location: Upland,CA.
Posts: 645
I have a little different set up but I have a picture with Bushwacker flares and then with tube fenders with 35's.I have a 6 inch lift but the Nth lift is closer to a 4 inch as it isn't as high as RE 5.5 inch kit. I think you would be fine with 35's and tube fenders. They give you a lot more room.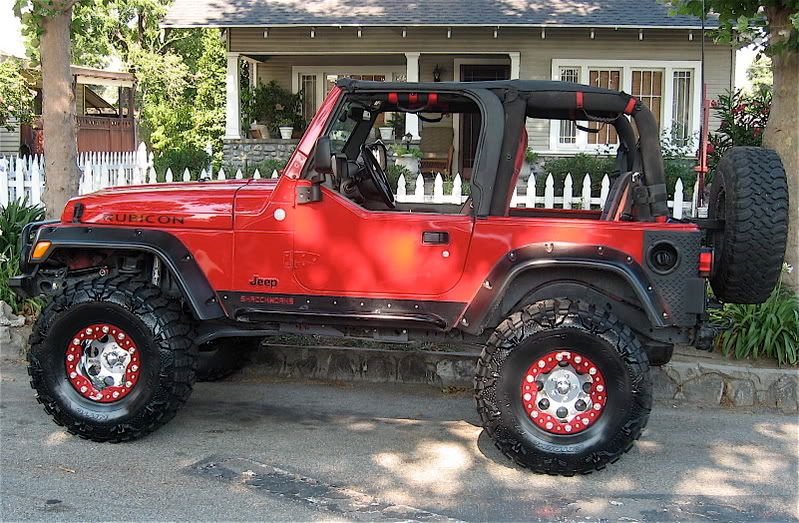 ---
Red Rubicon 6 inch Nth Degree LA Lift,5.13's, Alloy Shafts, PSC Tube fenders, 35 x14.50 x 15 inch Nitto Mud Grapplers, Swayloc, OMF Beadlocks, Currie HD Steering, Shrockworks, Rockcrusher Diff covers, RE Shocks, MM 12k winch,
Rubi Noobie
Join Date: Jul 2006
Location: N.C.
Posts: 45
AWESOME lookin Jeep. The example above was just to show how easy this thread would be to use. You told me all the important info, so I was able from what you posted to determine how the tubes would help. This is a prime example of what I was talking about this thread doing. Keep the comments up. Thanks for your time.

Jeff
Rubicus Maximus
Join Date: Mar 2007
Location: Wellborn, FL
Posts: 446
Hey Jeff,
When you get done with yours post some pic's. As I have the same setup and was thinking of doing the same thing, althrough not going to 35. Am going to wait till I regear and new Atlas axles. Oh ya I have looked into just going with the Bushwacker they would look real good on my White Rubi.
Phil
Also I Do think this type of thread would work as well.
---
06 Rubicon Unlimited
4" FT Ultimate Lift
33" MT/R Goodyears
Currie HD Steering
Skid Row Engine, Gas Tank, LCA Skids
Warn 8000, Steering Skid
Jeep Rockcrawler Front Bumper
Body Armor Rear Bumper/Tire Carrier/Rock Sliders

You Could Follow, but You Should'nt
Rubi Noobie
Join Date: Jul 2006
Location: N.C.
Posts: 45
Thanks for the quick responses. We just need to get the word out. It is still in my head right now but, if it looks like there is an interest I will look deeper and come up with a plan/ format that maybe can get put into a certain section. I will keep you posted. I mostly need feedback on if this would be a good idea. Thanks again for you time.

Jeff
Are you meaning just a thread for this or another tab on the index? And either way, after some time wont people still have to use the search button to find things because something they want has probably been talked about already and burried. I think I personally like the search button, its worked great for me. And in your instance if you searched with no luck then just post up your exact isse/question.
---
'02 MCS

WW ID - MikeP ROF [8985]